Located just outside of Mertzon, Texas, the O H Triangle Ranch has been in operation for over 120 years. At the time of the operations origination in 1898, the ranch was running numerous forms of livestock. The founders of the ranch were two brothers from Monroe, Mississippi - J.D and E.C Sugg. As young men after the Civil War, they pushed to move West. The men traveled with what little they had and one horse between them. Through tenacity and hard work the young men worked through cattle drives and tough conditions to build up their own cattle operation starting in Oklahoma and eventually landing right here in Irion County, Texas.
Throughout the ranch's long history, the family has survived droughts and family losses that pushed the next generations to persevere through the trials and tribulations. Returning from WWII in the mid 1940's, Mr. A.A Sugg Jr. had received 3500 head of horned Herefords through his uncles. This was the foundation of the commercial horned Hereford herd that still exists at the O H Triangle Ranch today.
Over the past 70 years, A.A Sugg Jr. has worked tirelessly to maintain the livestock business on the ranch that his great uncle and grandfather established. His business ventures have allowed for the next generations to take part in the operations that are continually evolving.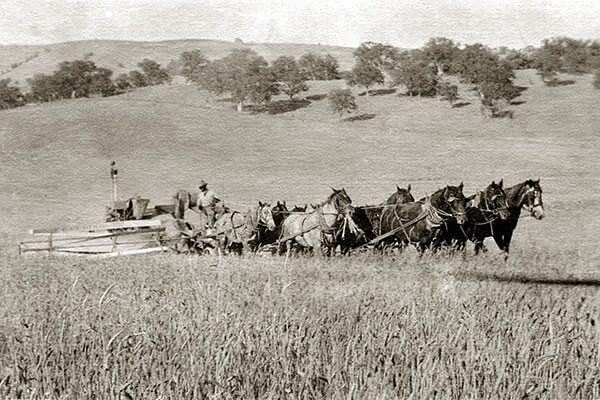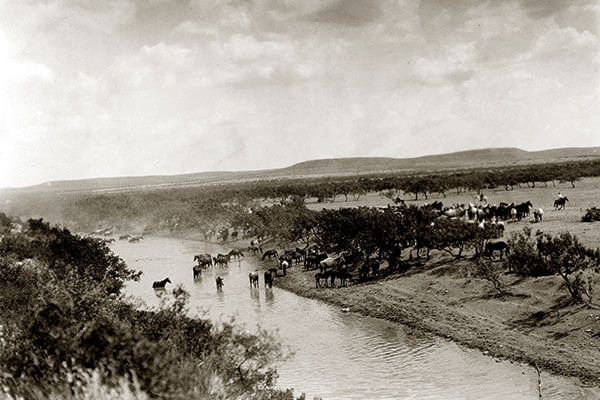 Dry Creek Ranch evolved from three generations of family ranching dating back to 1902! The Hereford cattle at Dry Creek Ranch are known for their top-quality genetics, outstanding production, and an overall perfect package for any cattle producer looking to improve their operation. The owners of Dry Creek Ranch, Pat and Carl Schlinke, pour themselves into their operation. The ranch's mission statement, "The Pursuit of Excellence", not only encompassed their superb quality Herefords but also exceptional ranchers and neighbors.
In 2016, it came time to purchase new bulls and we looked first to our neighbors from Dry Creek Ranch. O H Triangle Ranch purchased fourteen yearling bulls that rejuvenated the commercial Hereford herd. Dry Creek began to make plans around dispersing their registered Hereford herd in 2017. The O H Triangle Ranch team knew that purchasing the remaining registered stock from Dry Creek would be an excellent investment. By 2018, O H Triangle Ranch officially purchased the entire registered Hereford herd composed of fifty mother cows, seventeen calves, six heifers, and four herd sires.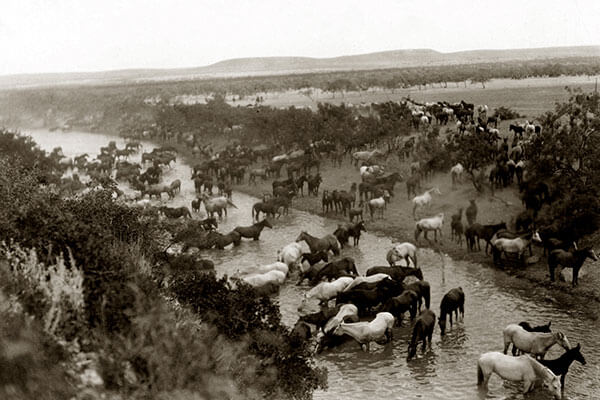 By 2018, O H Triangle Ranch had achieved Grand and Reserve Champion feeder calves at Producer Livestock Special feeder calf sale. These calves were out of our commercial herds, and were sired by the fourteen registered Hereford bulls purchased from the Dry Creek Ranch two years prior.
Our family takes pride in the history of the last 120 years in ranching. The growing and advancing cattle operation will continue to provide genetic improvement for not only our herd but our customers as well. We look forward here at O H Triangle Ranch to the future and continued stewardship of the ranch for decades to come. To learn more about O H Triangle Ranch, please contact us today! We look forward to hearing from you!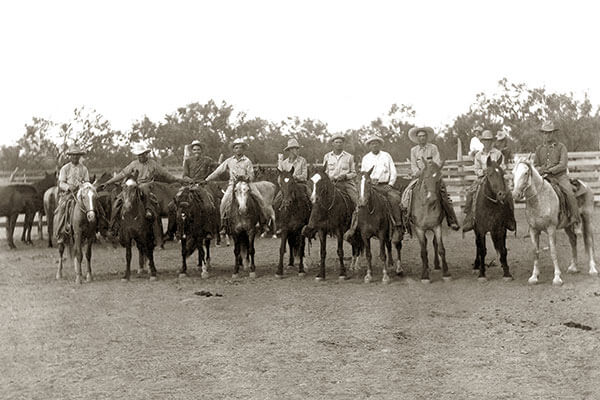 Mr. A.A Sugg Jr. was born October 16, 1925 to A.A Sr. and Sammie Bess Sugg, and was the younger brother to Sammie June. He grew up in a ranching family during some of the country's most economically challenging times. Spending much of his youth between Texas, Oklahoma, and California, A.A Sugg Jr. learned shrewd and invaluable business lessons from his entrepreneurial father.
His parents worked tirelessly to find ways to support the family business and homestead during the depression. Education was very important in the Sugg family and it was taught early on that it was essential to graduate from college in order to prosper in uncertain times.
In the winter of 1942 Andy's father, A.A Sr. died unexpectedly from a heart condition. A.A Jr., at the age of 17, quickly had to step into a new role alongside his mother running the family's ranching enterprise. The ranch and family business now rested on his shoulders and the decisions he would need to make during wartime.
After his 18th birthday in October 1943, Andrew Sugg Jr. chose to enlist in the Army Air Corp and trained to be a radio operator on a B-29. He was sent to the South Pacific and was there until the end of the war in 1945. Upon returning to the states, he took back up his studies at Pomona College in California and later graduated with a degree in Economics.
Mr. A.A Sugg Jr. moved back to the ranch full time in 1949 and went on to raising a family, updating ranch facilities and building upon the family businesses. By the late 60's, he had four daughters and lots to protect for the future of his family. He worked hard over the many decades to continue to increase profitability of the ranch and cattle business.
Mr. Sugg expanded out and ventured into enterprises to continue to support the ranch and the future of its abilities. His business savvy allowed for continued growth and a strong foundation for the next generations to come.
Mr. Sugg has been a pillar in the community and his generosity to many excellent charities will continue to be a lasting legacy outside of the ranch. Through his support of his children's and grandchildren's education, he has contributed largely to the next building block in the legacy of the ranch and operations.
Now well into his 90's, Mr. A. A Sugg Jr. continues to contribute and oversee the day to day operations. His infinite wisdom and humble nature continues to ground and instill the importance of dedication going into the next phase of the ranch's legacy.
Mary Sugg, A.A Sugg and Robin Sugg
Mary Sugg and A.A Sugg taking in the big snow at the ranch headquarters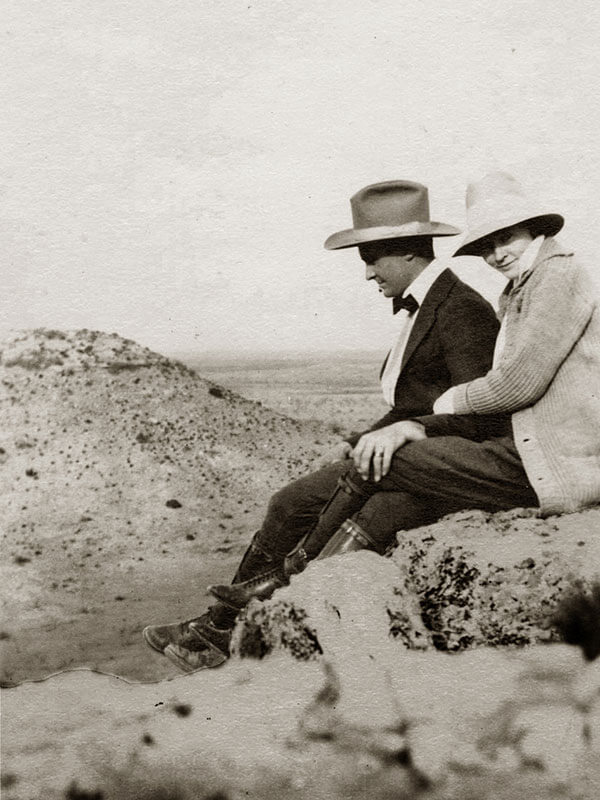 Andrew Acker Sugg Sr. and Sammie Bess Sugg (Henderson) late 1910's early 1920's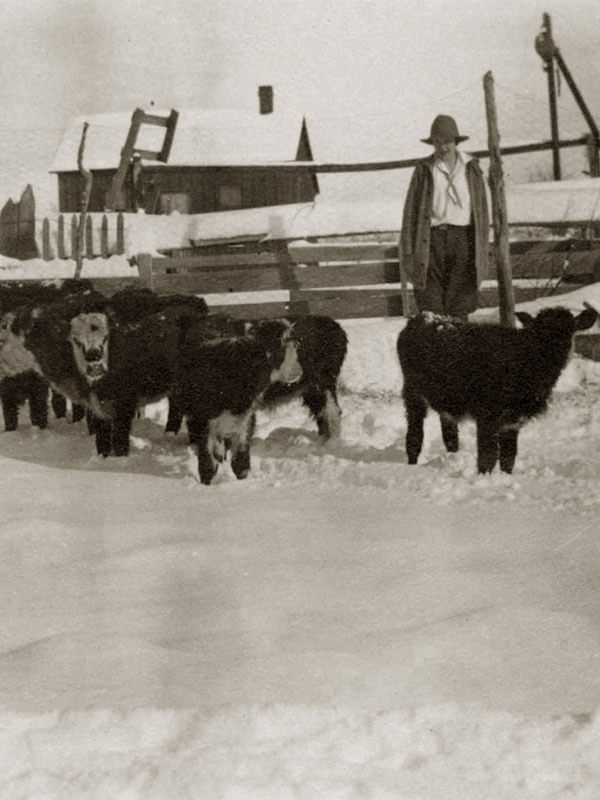 Sammie Bess early 1920's late 1910's
Andrew Acker Sugg Sr. late 1910's
A.A Sugg Sr. 1920's
Robin Sugg, 4th generation operator
The youngest of Andrew's daughters, Robin is the only one who returned after graduating from Southern Methodist University in 1988 with a BFA. Growing up at the ranch, she developed a love not only for the land and history of the ranch, but for all animal related activities. Robin has served on several boards and committees including Mosaic Trails therapeutic riding, Silver Spur Circuit quarter horse shows and Animal Investigation and Response.

Wanting to continue the ranching tradition Robin has two daughters who, as fifth generation ranchers have tremendous responsibilities, taking care of their ponies, collecting the eggs and checking for new calves. When they are old enough showing heifers and bulls will be a priority.

The O H Triangle Ranch has a long history of strong women running the ranch. Starting during WII when Sammie Bess Henderson Sugg took over after her husband A.A Sugg Sr. passed away, and her son A.A Sugg Jr. was serving in the Pacific. The Henderson family ranched in Concho county and the family still have the ranch running today.

With the addition of the registered herd we are getting back to the ranch's roots of raising registered Herefords, as well having a commercial herd of pure bred Herefords. With the addition of grandchildren and great grand children, the O H Triangle will go on for generations.
Ryan Akers, Ranch Manager
Ryan Akers has been the ranch manager since 2015. Ryan comes to the O H Triangle Ranch by way of California where he met his wife, Samantha after high school. Samantha is the granddaughter of the owner of the O H Triangle.
Ryan's background has been in livestock and ranching from the start. His great grandfather Jack Akers was from Brownfield, TX and moved to the California coast where he went to work for William Randolph Hearst on his ranch. The ranching legacy continued through the next few generations with his grandfather running two large ranches in the Husana Valley and his father Warren Akers running one in Lockwood, California.
Through high school Ryan participated in FFA and earned his American Degree raising show steers and registered Angus replacement heifers as well as farming projects. Ryan also rodeoed in High School and during his early college experience. He rode rough-stock and was even a qualifier to the National High School Finals Rodeo in bareback riding.
He spent what free time he had cowboying on several of the local ranches. After some rodeo injuries, Ryan moved on to studying Agriculture in college, and working for Crop Production Services as a pesticide application supervisor. In 2013, Ryan and Samantha married and the following year they decided they wanted to move out of the hustle and bustle of California to her family's ranch in Texas.
Five years on, the couple are now raising their almost 2 year old son Jack Monroe Akers, who loves cattle just as much as his daddy! Ryan hopes to continue to contribute to the rich legacy of the O H Triangle Ranch and looks forward to all the future has to hold for the family and ranch for years to come.
Maise the bottle calf and Ryan Akers
Ryan Akers checking the pastures
Samantha Akers, Marketing Coordinator
Samantha Akers is the marketing coordinator for the O H Triangle Ranch. She came to Texas after growing up on the central coast of California, where she met her husband, Ryan in 2006.
After many years pursuing an Agricultural Sciences degree, Samantha graduated in 2013 from California Polytechnic University at San Luis Obispo with a concentration in Crop Science. She continued to work after her internship at Crop Production Services after graduation and obtained her Pest Control Advisor license and spent the majority of her time working with customers in wine grapes.
After her marriage to Ryan in 2013, they decided they were looking for new challenges and to move out of California. Samantha's close relationship with her maternal grandfather and aunt who were running the ranch operations, were encouraging and supportive of the move to join the family business.
When Samantha is not learning and adopting the ranch life or raising her almost two year old son Jack, she is also a saleswoman for an agricultural chemical company. Samantha looks forward to continuing the history of her family's beautiful ranch and sharing it with generations to come.

---
---